Discussion Starter
·
#1
·
Now that we are coming into Spring we wanted to help people turn their thoughts to warmer weather with some great deals on a variety of Solar Ovens, Parabolics and Panel Cookers. Prices run from as low as $49.00 up to $445.00, but mostly in between.

You can find full details and costs by clicking on the links for each cooker: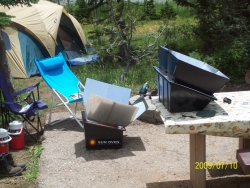 All American Sun Oven:$294.00 or $329.00
http://www.solarcooker-at-cantinawest.com/All_American_Sun_Oven.html
with accessories package or an Oven with FREE Bake/Dehydrating Racks.
Hot Pot Panel Cooker:$124.95
http://www.solarcooker-at-cantinawest.com/hotpot-solar-cookers.html
Solar Burner Parabolic:$130.00
http://www.solarcooker-at-cantinawest.com/parabolic_solar_cooker_solar_burner.html
Sun Chef Parabolic:$329.99
http://www.solarcooker-at-cantinawest.com/sun_chef_cooker.html
Haines Solar Cooker (panel style): $49.95
http://www.solarcooker-at-cantinawest.com/Haines_solar_cooker.html
And many more:
http://www.solarcooker-at-cantinawest.com/solar_oven_central.html