Discussion Starter
·
#1
·
These are my Rutger tomatoes.
Nearly all of them have the strange marks, and some of them are split open.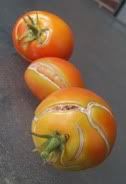 Is this normal, or do I have an infestation of something? Or, too much nitrogen, not enough of something else? Too much or not enough water?
I'm new to gardening, and this is the first year I got any tomatoes at all. Any help from you more experienced gardeners will be greatly appreciated.