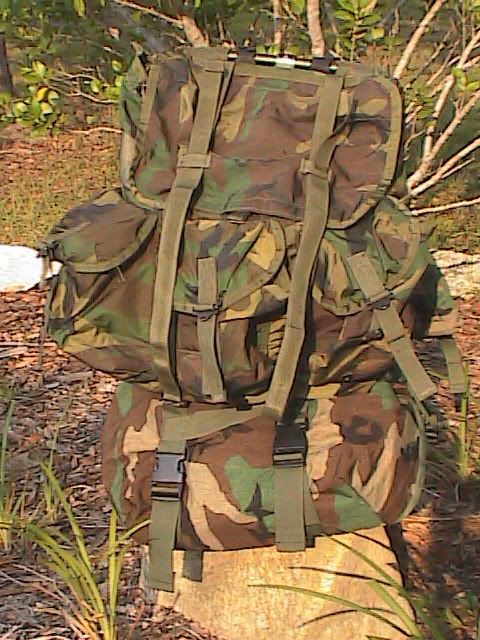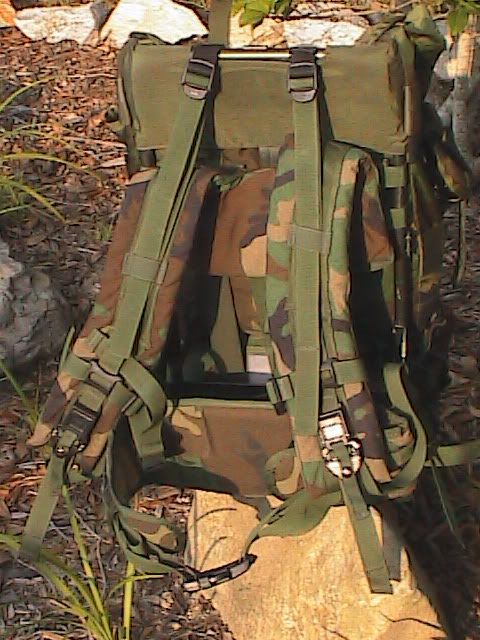 This is a hybrid pack taking the best of two worlds. A member of another forum named the pack and I liked it so the name continues.
It is a very nice pack with lots of versatilty.
The pack consist of a brand new woodland camo Medium Alice pack. The Pack has an internal pouch inside the main storage area of the Ruck. Three good size pouches are located on the outside for items that one frequently uses. All the components are hand selected. The frames are inspected and are in excellent condition. The Molle II shoulder straps and waist pad are the woodland upgrade components many have asked for. The shoulder straps are adjustable on the top and bottom quickly with pull straps. They include a sternum strap and quick release buckles. Finally, the pack is complete with the Modular Sleeping system carrier, also in woodland. This sleeping bag carrier adds lots of room for your sleeping bag to keep from taking up valuable space in the main ruck. The MSS carrier is easily removed should you wish to.
If you prefer to have the pack made with a large Rucksack, I have them in new condition as well. Components are limited. I dont have a lot of them. I assemble each pack personally and inspect all components. The price of the pack includes the assembly. If you ever assembled one, you know it takes a while to do so. I believe you would spend more to buy to the components seperately. I took care of the work for you.
If you would like to read more on these packs,You can view the link here
http://www.survivalistboards.com/sho...d.php?t=133430
Send me a PM with your zipcode for shipping information.